GoBone Interactive Dog Toy – App-Enabled Smart Bone for Dogs and Puppies
Every dog owner knows how physically exhausting it can be to play with their dogs. Sometimes Fido just doesn't run out of energy. However, there's a smart and interactive dog toy that aims to change that, called the GoBone Interactive Dog Toy.
The GoBone is an automated dog toy bone that plays the way your dog wants to. The GoBone is chewable, treatable (holds treats) and features intelligent software to personalize play for your dog.
Let's take a detailed look at it and see exactly how it works.
DESIGN & SPECS
The GoBone Interactive Dog Toy measures exactly 5″ x 9.75″ x 3.5″, weighs 1 lb. and was designed with both safety and durability in mind. This automated smart dog toy-bone comes equipped with multiple chewing surfaces on its exterior that are made from tough FDA food-grade nylon and TPU materials.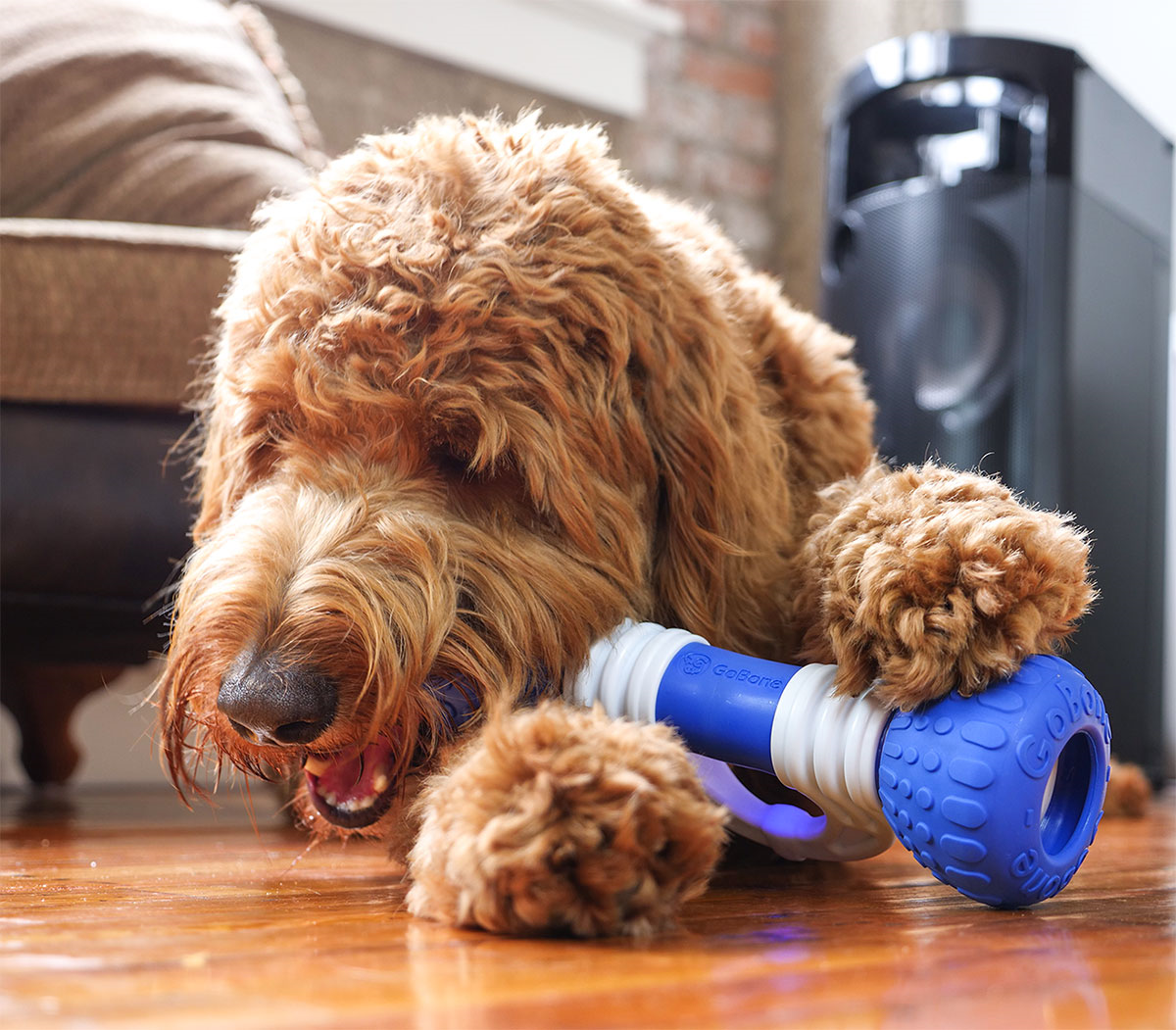 This makes the GoBone perfect for any small or medium-sized dog(s). While it does come with a removable exterior and replaceable parts (two wheels and shell that can be bought as replacement packs) – which are somewhat durable when small or medium dogs play with it – known that the GoBone is not recommended for large dogs (like Rottweilers for example).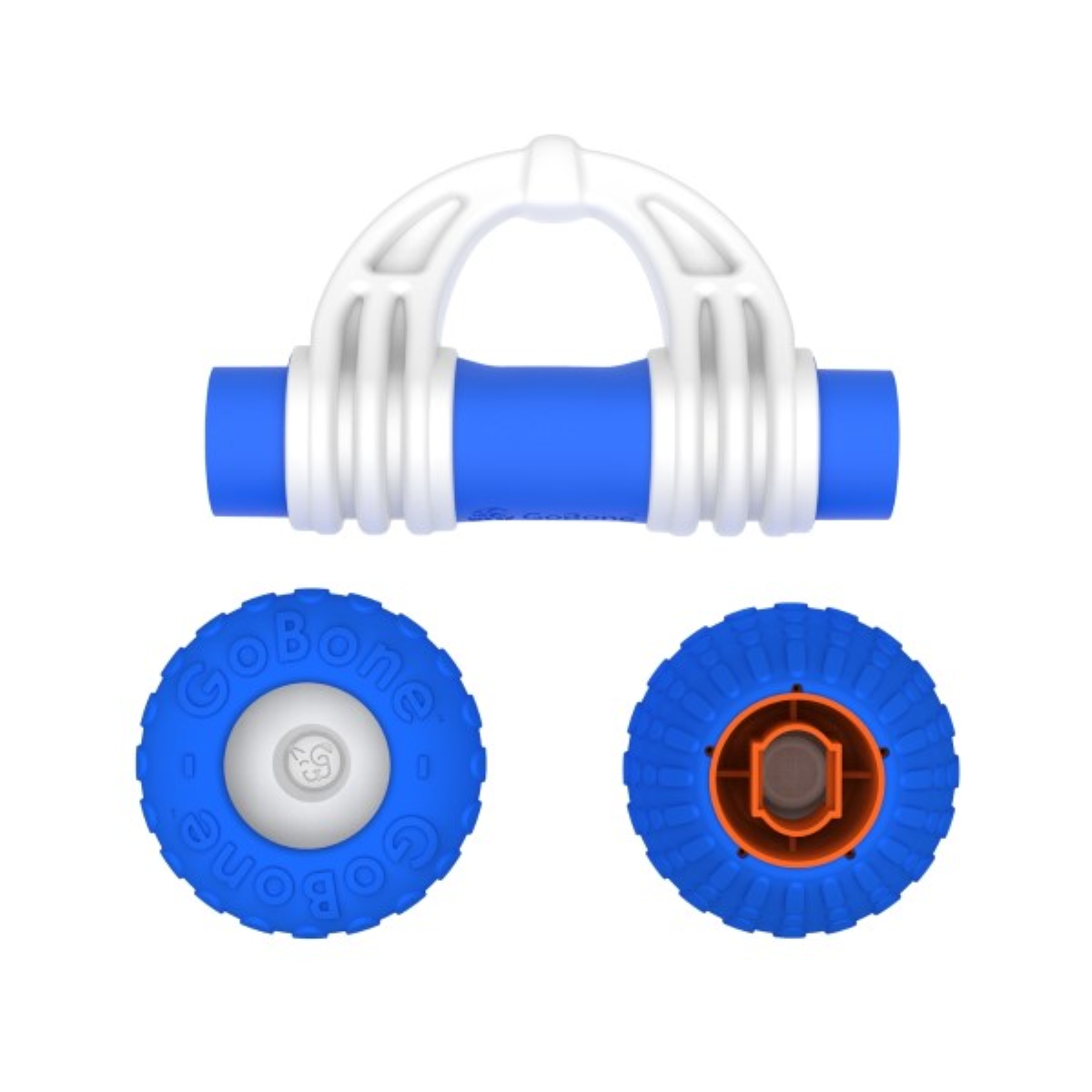 When used to entertain large dogs, your big pup(s) will simply tear it apart in a matter of minutes. It should last less than 10 minutes when big dogs play with it, and will definitely get punctured in several places, have its wheels ripped off and get its inside framework completely crushed where the wheels are supposed to clip on. Regardless of not standing up to the jaws of stronger and bigger dogs, it's still a great automated dog toy for smaller dogs that have a playful personality.
The GoBone features dog-proof quick-release buttons that allow dog parents to remove the parts that come in contact with your dog. This offers an easy way for dog owners to wash those parts (wheels and main body/shell) if they're dirty, or ultimately replace them with new ones (with the previously mentioned replacement packs) if they're worn out.
The GoBone is also both water- and slobber-resistant, which means that no matter how much your dog plays with it, it won't get damaged of all that licking and biting.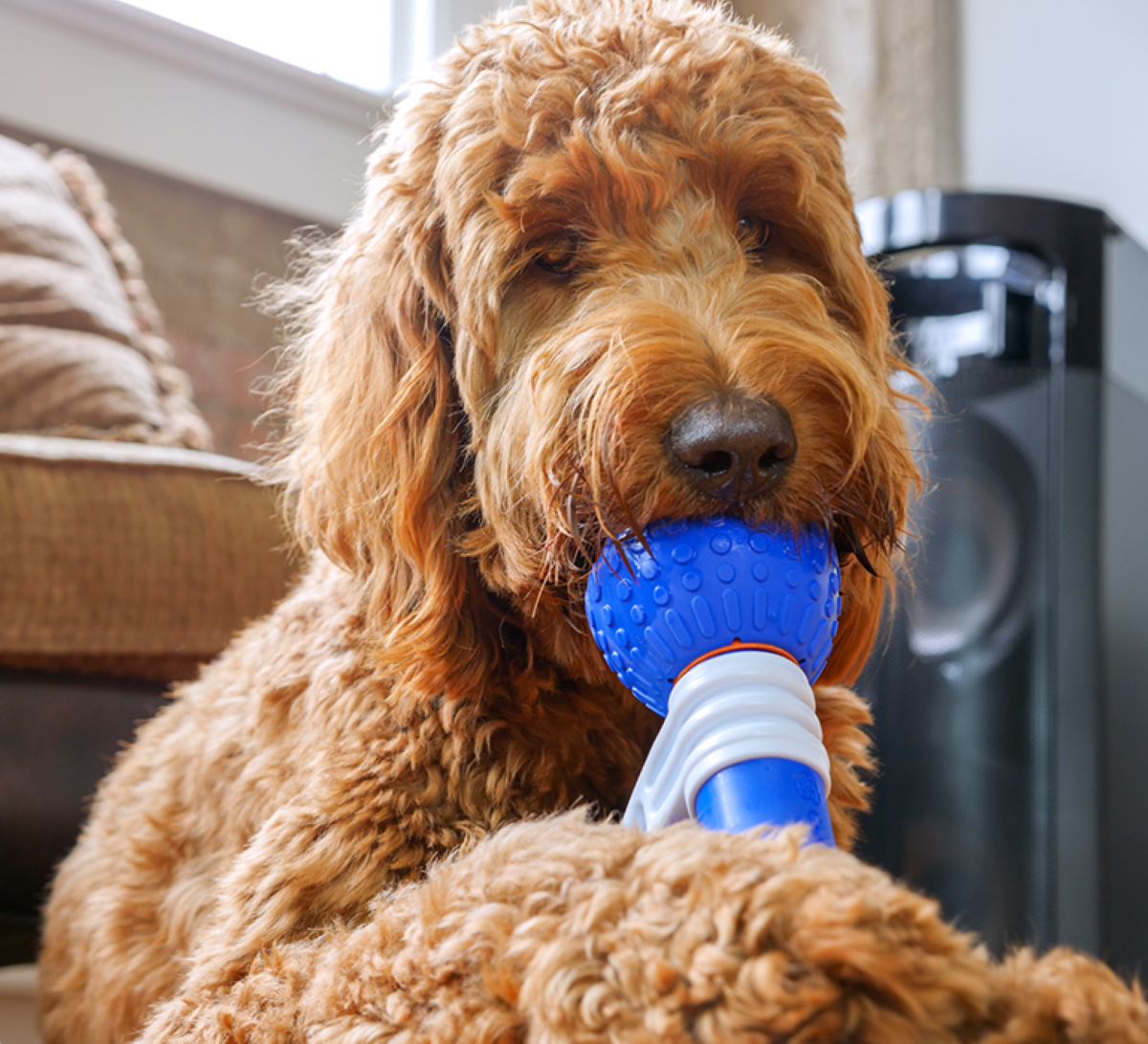 As stated before, the GoBone can also hold your dog's favorite treats. Just insert some doggy treats inside its wheels or slightly slather some peanut butter on them.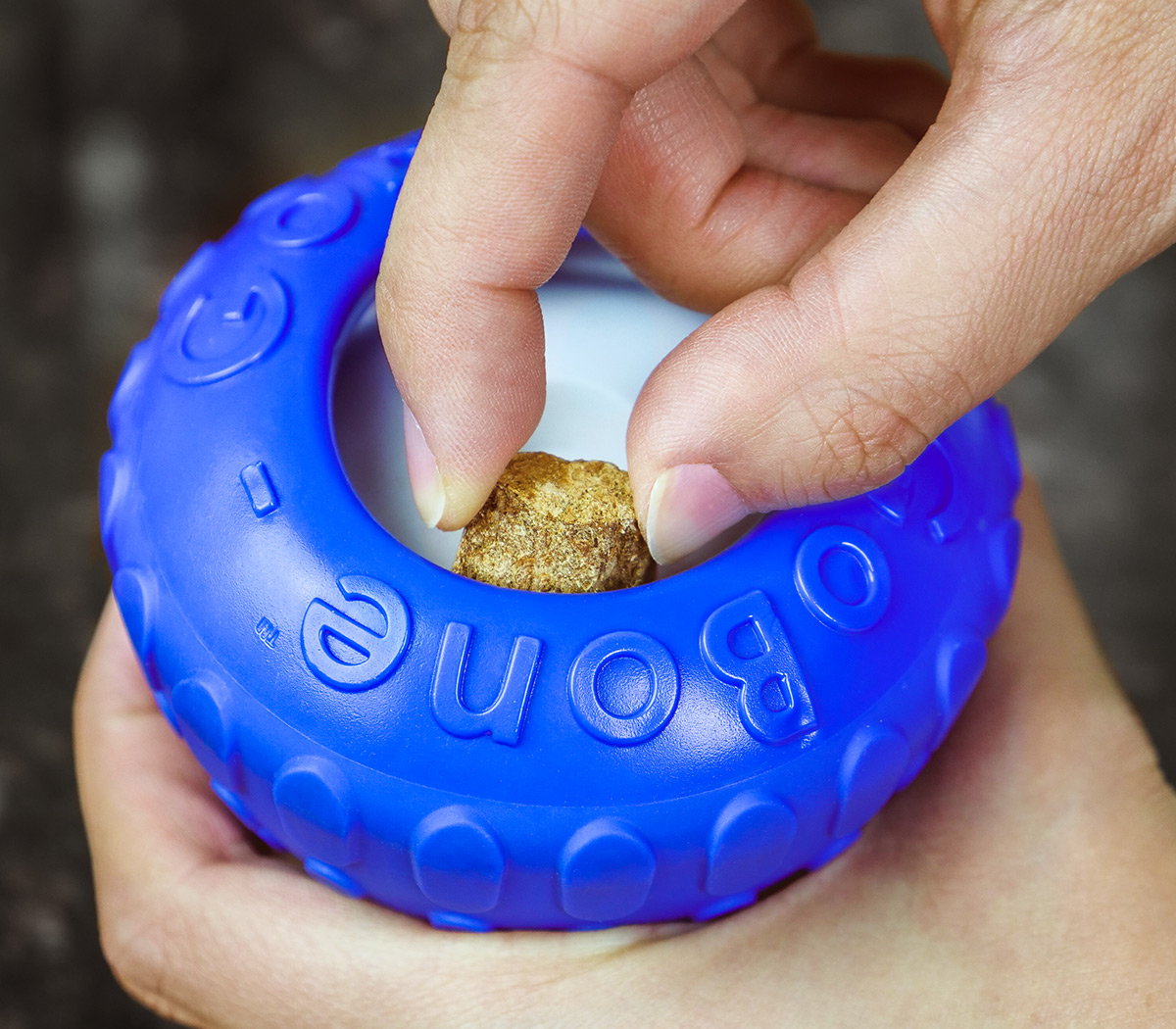 The GoBone also comes equipped with a built-in LED light that lights up when it is turned On. The device features a wireless operation via a Bluetooth connection.
BATTERY AND BATTERY LIFE
The GoBone comes equipped with a rechargeable battery that offers up to 60 minutes of battery life in Freestyle Mode, or a jaw-dropping maximum of 8 hours of playtime when it's set to Auto-Play Mode.
Its rechargeable battery can be easily recharged via USB – by using the included USB Power Cord.
WHAT'S IN THE BOX?
Inside their package, users will find: one GoBone automated dog toy, an included USB Power Cord (to recharge the device's battery) and a Quick Start Guide.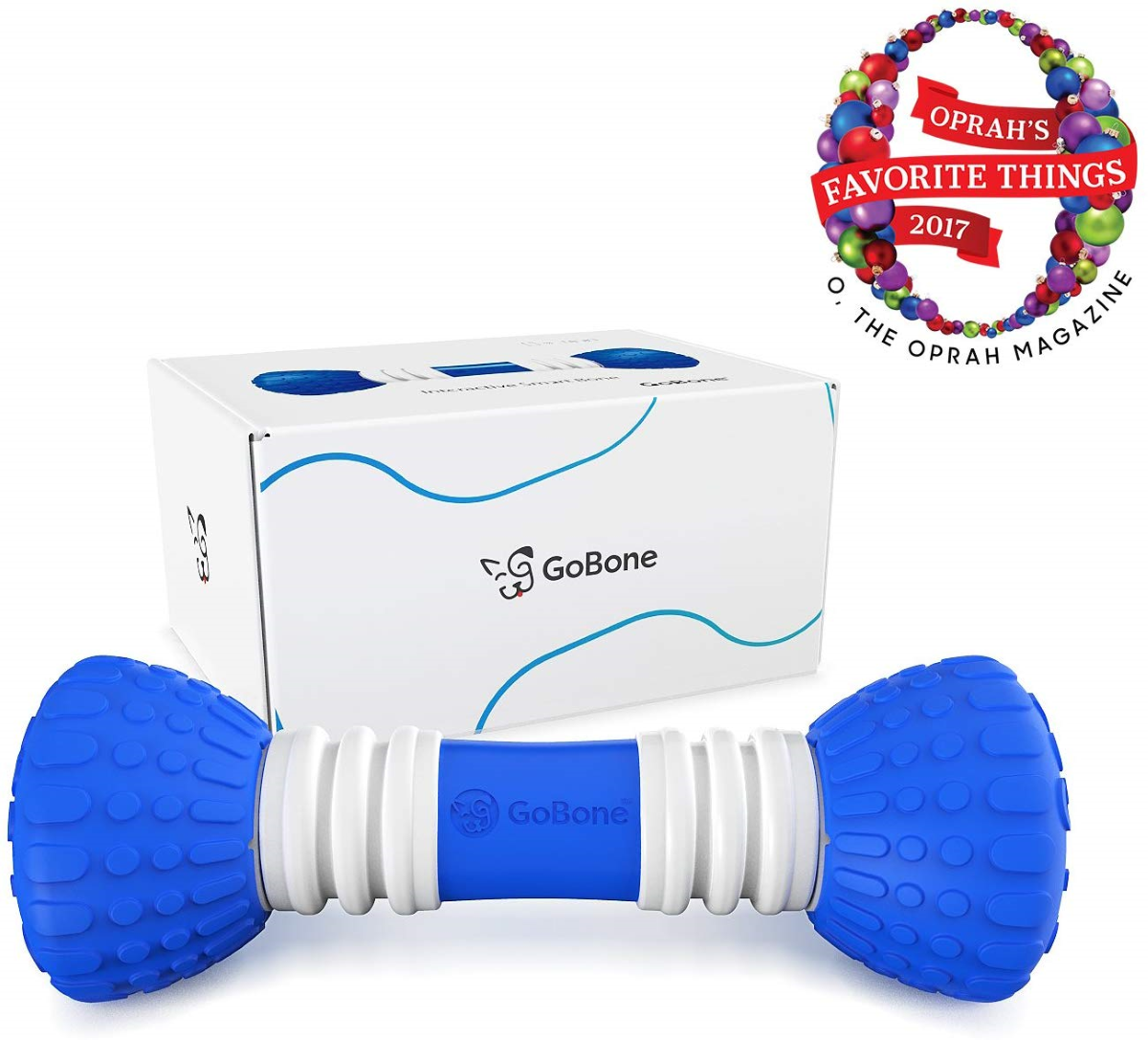 FEATURES
All-Day Exercise
As said before, the GoBone is an automatic dog toy-bone that comes equipped with Intelligent Software, allowing it to fully-adapt itself to each and every dog.
The GoBone can be set to an automated mode to move alone and automatically adjust its behavior based on your dog's age, weight, breed, and play style to engage your dog longer and more often. This provides your dog with all-day exercise and play.
The GoBone plays with your dog for around 15-25 minutes, providing them with mental and physical stimulation. As stated before, the GoBone will adapt to your dog's characteristics, so an exact play session length will depend on your dog's age and breed. After each play session the GoBone snoozes for around 5-15 minutes to give your dog an opportunity to rest and re-energize for the next play session.
24/7 Happiness when Owners are Busy
The GoBone is also the perfect automated dog toy for when passionate dog owners are having busier days. The GoBone adds a renewed peace of mind to your day, letting you know that your dog is happy and entertained throughout the entire day.
This will allow you to focus more on your work and then return your full attention to your furry friend as soon as you're done.
Smartphone Compatibility for Direct Interaction and Control
While the GoBone can be set to an automated mode and adjust its behavior to your dog, it can also be controlled with your Smartphone via its proprietary App.
The App (available for free for both iOS and Android) will allow dog parents to instantly take control of their GoBone and turn it into a gaming device for both themselves and their dog(s).
The App is compatible with iPhones running iOS 9.0 or later and smartphones running Android v4.3 or later, featuring simple and easy-to-use controls to move the GoBone around your house and have your dog chase it with joy.
FINAL THOUGHTS
The GoBone is an automated dog toy bone that works as a 24/7 doggy play-time solution. Its chewable, holds treats and features intelligent software to personalize play for your dog, offering busy dog owners and their dogs a new way of playing together.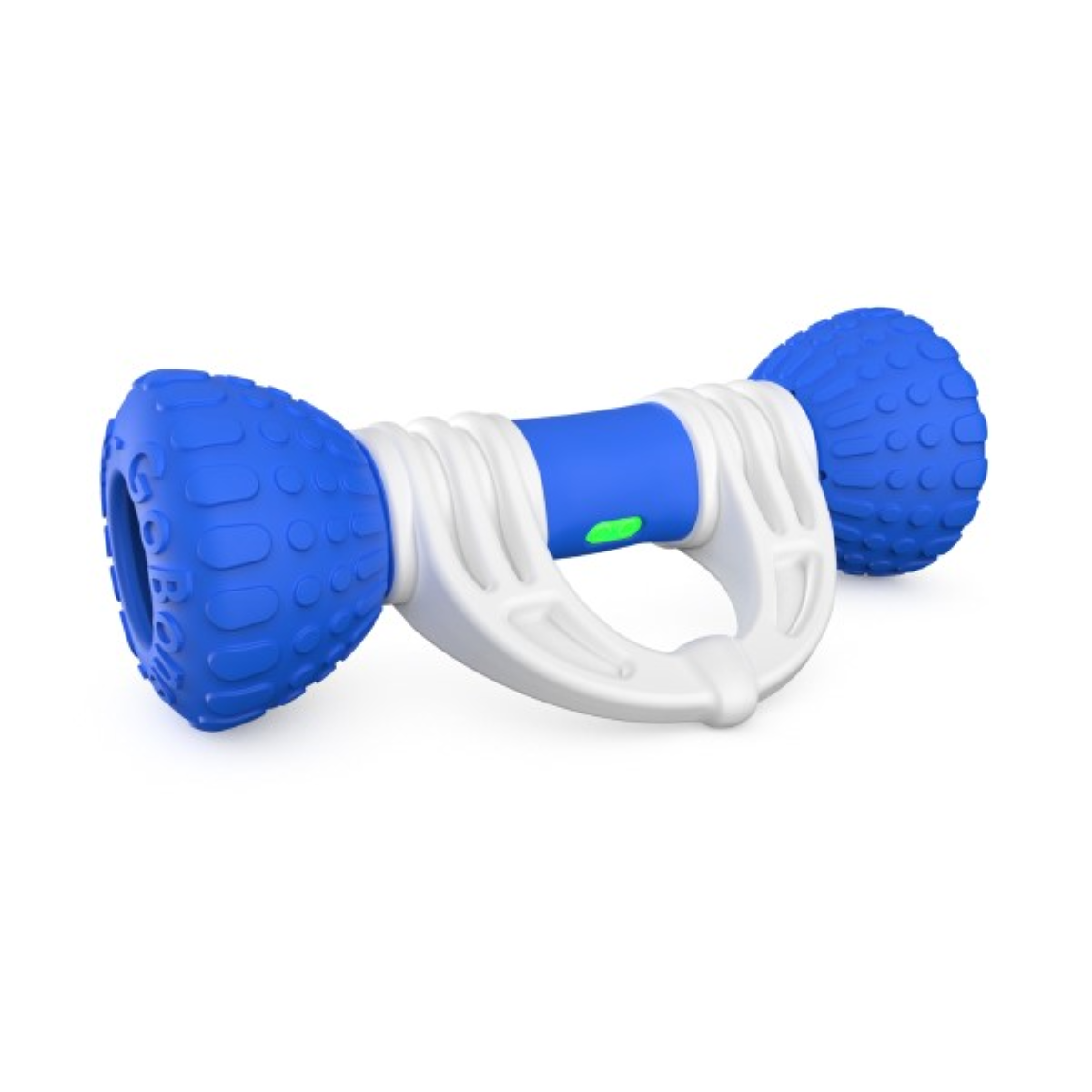 If you're interested in getting it, each unit is priced at $130. You can order yours online right now, directly from GoBone's official shopping page, which you can access by clicking here.
In case your dog shows the GoBone a little bit too much love, then you can also order some replaceable parts for it. Each pack of replaceable parts will cost you $30. You can also order these at the official website, by going to this page.
David Novak is an internationally syndicated columnist, TV and radio personality, and expert in consumer electronics. For over 20 years, his column has appeared in over 200 newspapers around the country, and enjoys over 15 million in viewers and readers. He's appeared in Wall Street Journal, USA Today, GQ, the Living Magazines, The Mark Levin Radio Show, The Laura Ingraham Talk Show, Paul Harvey Radio Show, Today, Good Morning America and Kelly and Ryan. Read all the tech news at GadgetGram.com