ThunderShirt Dog Anxiety Jacket – Amazing Dog Anxiety Calming Solution w/ 80%+ Success Rate
Dogs can sometimes experience different types of anxiety. This can happen during thunderstorms, road trips, and many other events, and can ultimately result in triggering specific anxieties or fears like thunder phobia, noise sensitivity, travel anxiety, general anxiety, situational anxiety or even separation anxiety. While dog owners can pay for treatments and/or training to help their dogs deal with these specific problems, having your dog wearing the ThunderShirt Dog Anxiety Jacket can help you save both time and money while also allowing you to have Fido sporting a jacket that he feels comfortable and confident in.
Separation anxiety for example is triggered when dogs become upset after experiencing separation from their beloved guardians/owners, which are basically the people that they're most attached to.
Dogs dealing with separation anxiety can sometimes go for escape attempts, which are often extreme and can even result in self-injury, as well as household destruction, especially around exit points like windows and doors. All this can be avoided with the ThunderShirt Dog Anxiety Jacket.
Back to the ThunderShirt. This dog anxiety jacket is designed to help dogs deal with many specific anxieties or fears, and is already proven to have helped hundreds of thousands of dogs (and even cats, mind you) across the entire country.
By having one of these, your beloved four-legged friend won't need to go through any training or medication ever again.
Let's have a detailed look at this dog anxiety jacket and check everything it has to offer.
DESIGN & SPECS
The ThunderShirt allows dog owners to effectively help their dogs to treat their anxieties, fears, and over-excitement, all done in a stylish and comfy way.
This dog anxiety jacket works exactly like swaddling an infant, as it applies a constant and gentle pressure to your dog's torso, which ultimately gives any stressed dogs the feeling that everything's "A-okay".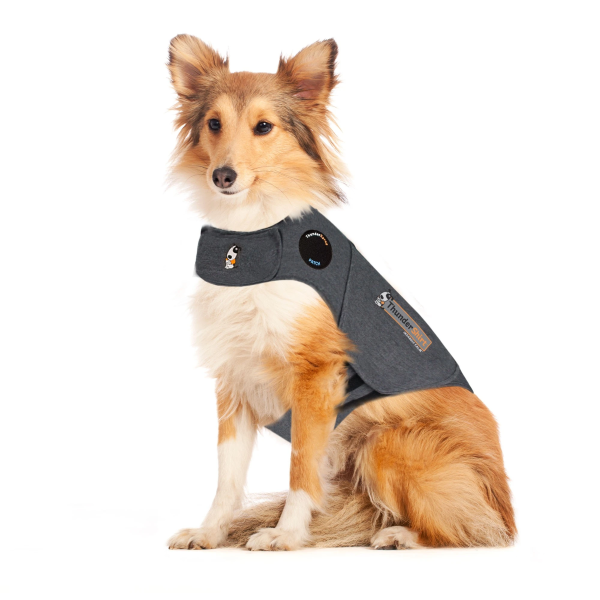 This way, the ThunderShirt allows over-excited or over-stressed dogs to feel safe while also helping them to calm down, thus getting much more relaxed than when facing their fears, anxieties, or any other stressful situations alone.
According to the company's research, statistics suggest that the ThunderShirt can help soothe and relieve the anxiety off of 4 out of 5 dogs, making it one of the best Dog Anxiety Calming Solutions available on the market.
This dog anxiety jacket is extremely lightweight and was also designed with comfort in mind, featuring a stylish, durable and breathable fabric that resists collecting hair, which is also machine washable for whenever its necessary. The jacket's fabric is made of high-quality materials, allowing it to stay with your dog for pretty much his whole life.
The ThunderShirt is super comfortable for any dog (meaning dogs of all sizes), and it offers all dogs a super peaceful and calm state-of-mind.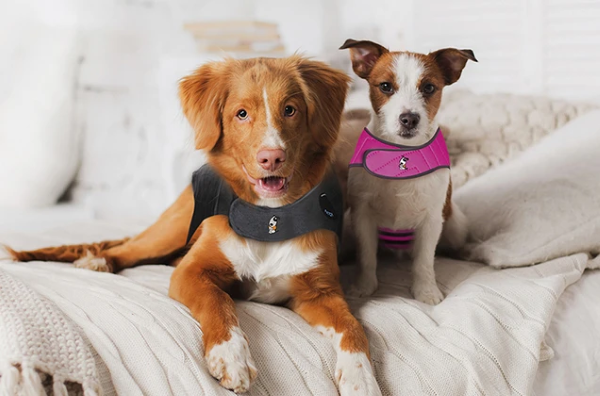 Furthermore, the ThunderShirt is also perfect for outdoors adventures, as it also integrates a contrasting trim and reflective logos that make it super safe for your nighttime walks with Fido.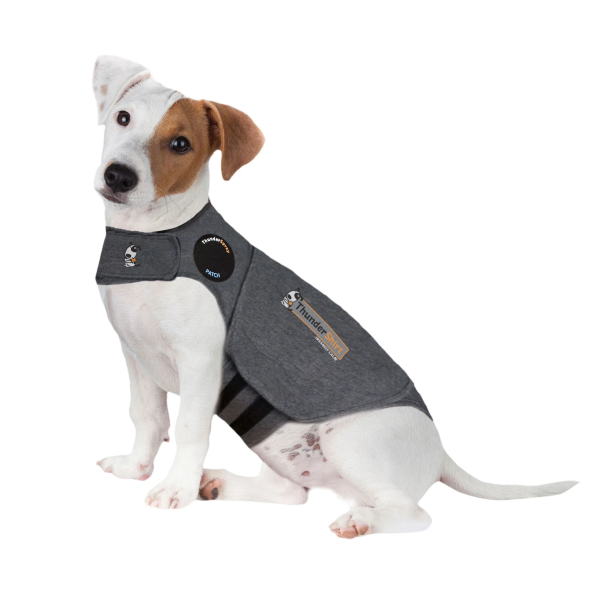 ThunderShirt features a super reliable pressure wrap design that makes it great for dogs that would find it hard to deal with thunderstorms, fireworks, separation anxiety, travel, vet visits, problem barking, reactivity, as well as any other stressful situations.
HOW TO DRESS IT / FIT IT ON YOUR DOG?
The ThunderShirt Dog Anxiety Jacket is worn just like any other doggie shirt, and is as easy to put it on as it is to take it off. Its easy wrap system goes on quickly and easily, and is adjustable for the right pressure for you dog.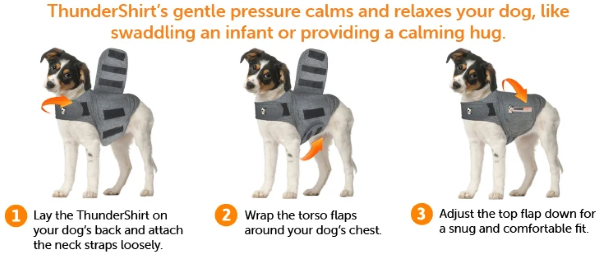 This dog anxiety jacket's easy wrap system features a ton of Velcro Pads that make fitting the ThunderShirt on your dog a super easy task. This easy wrap system consists of 2 Chests Straps, 1 Long Flap, 1 Short Flap, and 1 Top Flap.
Remember that fitting the ThunderShirt on your dog for the very first time should be done when your dog is NOT anxious so that Fido can more easily get used to the "snuggy hug feeling in a calm, and comfortable setting."
First, start by placing the ThunderShirt's main body along your dog's back. After that, wrap the jacket's two Chests Straps gently around your dog's neck, which are only used to help hold the ThunderShirt in place, meaning that these shouldn't create any pressure around your dog's body.
After this, wrap the jacket's Long Flap under your dog's torso and secure its fasteners to the ones in the jacket's Short Flap, allowing you to get your dog a secure fit while wearing the ThunderShirt.
Lastly, all you have to do is wrap the Top Flap down onto the jacket's Long Flap and secure it with the matching fasteners.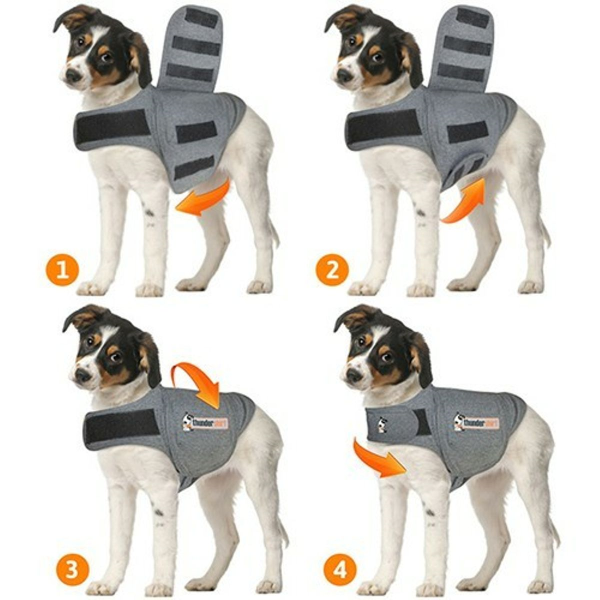 If it's too loose or to tight, remember to adjust it a couple of times to help improve the ThunderShirt's snug and hug-like fit on your dog's torso.
It's also important to note that dog owners should remember to check every 1~2 hours for any signs or irritation when having their dog(s) wearing the ThunderShirt for the first few times.
Furthermore, while the ThunderShirt is safe for your dog to wear it for long periods of time, it's still recommended by the company and its partnered Vets that dog owners remove the jacket from their dog's body at least twice a day for a minimum of 30 minutes per removal.
Check the embedded video below to have a visual idea of just how easy it is to fit the ThunderShirt onto your dog's body.
FINAL THOUGHTS
The ThunderShirt is a super comfortable and reliable dog anxiety jacket that produces a dramatic calming effect for over 80% of dogs by applying a gentle and constant pressure, in a similar way to swaddling an infant.

It's also recommended by many experienced veterinarians as no dog training is required for your dog to use it. The same goes for the use of any type of medicine during wear (no medicine required), making this Dog Anxiety Calming Solution completely drug-free.
The ThunderShirt is available in a total of seven (x7) different sizes, including: XXS (dogs under 7 lbs), XS (8-14 lbs), S (15-25 lbs), M (26-40 lbs), L (41-64 lbs), XL (65-110 lbs), and XXL (Over 110 lbs). This makes it the perfect dog anxiety jacket for dogs of any size.
Not only can it be worn by average-size dogs, but it can also be worn by baby pups, as well as fairly large dogs.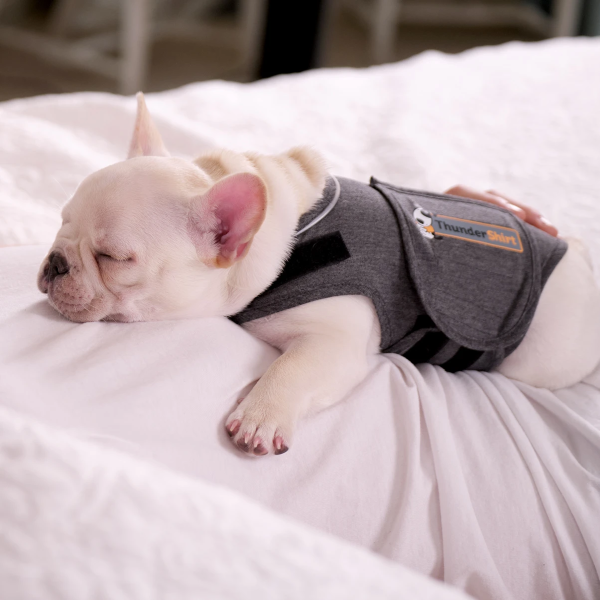 Keep in mand that the most important measurement is the girth or chest size, as you'll want to make sure that you get your dog a good snug fit.
If you're interested in buying this dog anxiety jacket, each ThunderShirt is currently going for $45. You can get yours online, directly from Thunderworks' official shopping page, which you can access via this link.
David Novak is an internationally syndicated columnist, TV and radio personality, and expert in consumer electronics. For over 20 years, his column has appeared in over 200 newspapers around the country, and enjoys over 15 million in viewers and readers. He's appeared in Wall Street Journal, USA Today, GQ, the Living Magazines, The Mark Levin Radio Show, The Laura Ingraham Talk Show, Paul Harvey Radio Show, Today, Good Morning America and Kelly and Ryan. Read all the tech news at GadgetGram.com